PRICE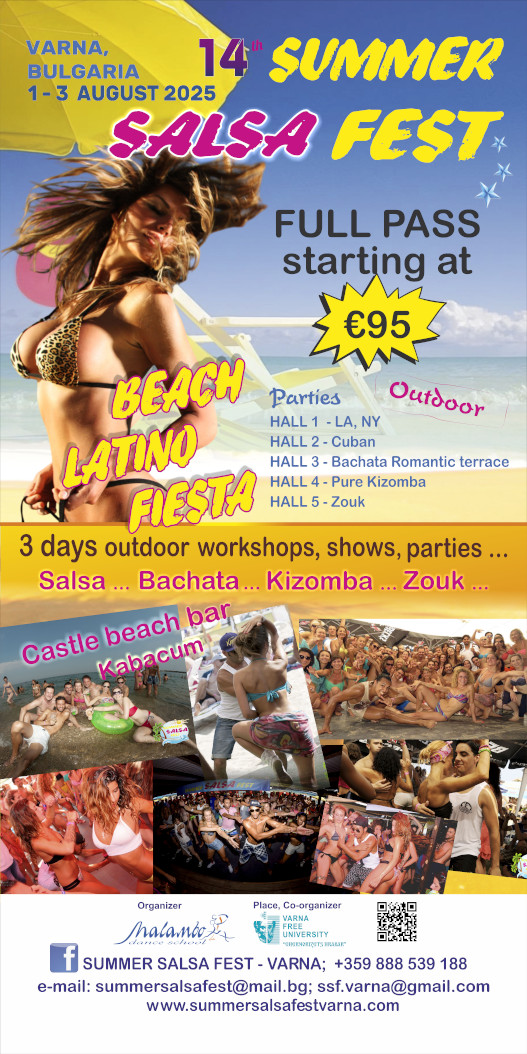 Prices do not include accommodation!
You can buy your pass before the 15th of July from your instructor or promoter, or from the organisers - Dance school Malambo /summersalsafestvarna@mail.bg/, Or make your pass request by following the link: https://docs.google.com/forms/d/e/1FAIpQLSfOWddFekt4jdEYB-Ohi5idGW3ZpHgBMk0CdWNzoe2tyQ6nmA/viewform?usp=sf_link
Dear friends, we would like to remind you that:
The pre sale of a Full Pass at a price of 65 Euro and a Party Pass of 60 Euro is until July 15. By July 15, you need to pay the full amount to your instructor or promoter.
After July 15, you can win a full pass at Friday's outdoor summer parties in the White Tent https://fb.me/e/2xlYznPcL, as well as at the pre-party of the festival: https://fb.me/e/1zBBulfxy
Passes and tickets for the individual activities of the festival / evening ticket, day pass, beach fiesta, workshops / for people who missed the pre-sale by July 15, will be sold on the spot during the festival in the working hours of the info desk, in case the restrictions allow it.
ONLY tickets for the beach fiesta for the respective day are sold at the beach fiesta.
Passes are received and purchased from the info desk at VFU during the working hours of the info desk.
The full pass does not include the pre-party with the special guests on Thursday 05.08. from 9.30 p.m. in the White Tent. https://fb.me/e/1zBBulfxy
The program with the lessons, the show programs, the working hours of the info desk, etc. similar information will be announced later on the website www.summersalsafestvarna.com and Facebook page
Thank you for your support! Can not wait to see you!!!